Seriously, if I don't wrestle soon I'm going to punch the coffee pot.
NEWS FLASH!!!! ***SPOILER ALERT***
Santa is real.
Next time i wrestle I'm going to kill him.
What happened to Lightning Foot Jerry Flynn?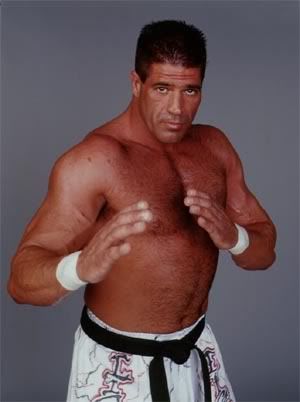 When I'm a millionaire i'm going to start a promotion that will see flynn team up with Khali in mask (re-named Big foot) and managed by Micheal Hayes.
Their name will be the Foot Clan.
Jokes.Bacon, hip, thanks.
Day light is burning, and I want to get back in the ring.  I want to get 9 gimmicks going like right now and work 18 days of the week, 74 days of the month, and 450 days of the year.  Fuck my arm if it falls off.
Gimmicks list that if i dont get started soon will force me to shit in your hat:
Death or Glory
The Starfighters
The Golden Guys
Nick Novelty–only if managed by New Wave Dave…he's all the rave
A scooter gimmick
When my shoulder heals I want to test it by punching someone in the face hard enough that they vomit.  Not in the top of the head…no concussions. No, IN THE FACE.
Why doesn't anyone ever pull a gun in a deathmatch tournament?  If I was in one I'd make sure that I was packin'.  I'd win in the most decisive finish in deathmatch history, and then I'd ride away on Scoot.
Modern Medicine.suck.
DIlz and I want a Handi-cap Match against The HOME-OWNERS.
For the record, it sucks that no sooner that Bacon gets to manage me in what seemed like an ongoing "angle" I get hurt.  Hipster is jinxed.
I want to work a gimmick where I am a priest and there is a raffle in which one lucky little fan gets to manage me during my match.  That joke go to far?
I want to ride a wheelchair to the ring, wearing a crashhelmet. Roll right up to the biggest guy in the crowd with a mic in hand…look right at him…pull the mic to my mouth…"YOU'RE FAT AS HELL AND I'M LAZY," get up and run around the ring, "HA! I FIXED MY PROBLEM, YOU'RE STILL FAT!!!"
Thats all I got for now.
The Ghost