Every Halloween, it seems like the thing everyone wants to do on their list of Halloween festivities is to go to a haunted house.I for one, always put this on my listt.
This list is essential for me to have a good October.
10) Pumpkin Carving (this year a Team Fortress 2 Spy)
9) Eating buttloads of candy ( and when I say buttloads I mean dumping boxes of candy in my mouth)
8) Thinking of an awesome costume no one will have (seriously who has an old vinyl Halloween costume from 1974, I do)
7) Making the costume no one will have (Mr. Peanut, Super Box Robot 2018, etc)
6) Going to a Haunted House (that's put on by people)
5) Saying that I want to live in a real haunted house ( after watching Ghost Hunters on Sci-fi year round)
4) Finding Horror Movies on our favorite TV Channels only to be edited and ruined. (Halloween series, Friday the 13ths, Dawn of the Dead, etc)
3) Playing classic survival Horror games (Resident Evils, Clock Tower, Dead Rising, Fatal Frame, etc)
2) Thinking of Pranks to pull on Halloween and doing them ( will portake on friday only to have a picture post from Mav and myself)
1) Looking at my wife in sexy (not slutty) halloween outfits. But she makes whatever she wears sexy. (best part EVER)
– NO I WILL NOT PUT A PICTURE OF MY WIFE LOOKING SEXY HERE internet pervs.
But what we're going to focus on today is the issue with Haunted Houses today.
If anyone has ever been in a real haunted house, or has had experience with the paranormal then you know just like I do, how messed up it is when you're being jerked around by spirits.
However, as a commercial franchise there are only a FEW Haunted Houses in America that are badass, we'll save that for another time though.
I went to a Haunted House put on in Paducah,KY  this past weekend. I have to say they did a good job this year with what they did.
But, the problem is, I already expected everything that was going to happen.
First Expectation: You're going to stand in a line to get tickets. Then you're going to stand in another line to get on a bus thing to transport you. We rode the Saladino Oaks and Schaff Law Firmbus because GARY SCHAFF looks just like LUKE WILSON
Gary was not here to comment on his likeness. God bless Mitchapolooza.
only to wait in another line to get into the Haunted House.
2 hours later.We go through this haunted house.
Second Expectation: If there is a corner, someone is going to jump at you. Which happened only for me to sneak up on the people scaring by jumping towards every corner in a crouching tiger pose.
Third Expectation: Girls dressed as Slutty Vampires/Dead Schoolgirls/Dead Deads all saying stupid lines they rehearsed for weeks thinking one day they may get a bit part in a horror flick.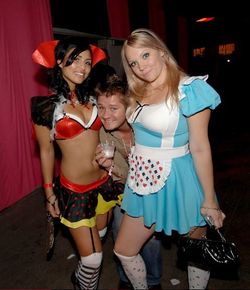 Example:
Slutty Schoolgirl Cheerleader Dead thing: We've Been "dying" to have you in class.
Me: Sorry I'm 15 minutes late, I missed the bus, and had to walk here and lost a shoe to a dog chasing me.
Slutty Schoolgirl Cheerleader Dead Thing: We've been waiting for you so we can Dismiss your life.
Me: So did you hear that Tiffany and Mark broke up? I heard she was a whore.
Slutty Schoolgirl Cheerleader Dead Thing: ……….
Me: So did you study for Mr. Coopers test in Physics today?
Forth Expectation: Chainsaw crazy guys running around trying to scare you. If you're like me and you were born in the Early 80's say 1982, when you hear a Chainsaw you think of 2 things.
1.) A lumberjack
2.) THE LUMBERJACK SONG by JACKYL
So more or less, the sounds of Chainsaws tend to be soothing more than scary.
Fifth Expectation: You're going to talk about what scared you, what could have been better, and argue with someone that you didn't get scared by the camouflaged dotted midget person in the polka dot room.
Arguements aside now, I've come up with some things that will make a haunted house Terrifying and completely Awesome.
1) UNICORNS.
Think about it. Who in their mind would expect a Unicorn running at you from a long hallway shooting rainbows and blasting the sound track of You Got the Touch by Stan Bush from a room near by.
2) Stan Bush Room where he's rocking out You Got the Touch with his band.

You'd either Start rocking out to its amazing awesomeness or run with fear because you're too young to understand the power of Transformers the Original Movie.
3) Pedophile Room
A room filled with guys/girls with beards and trench coats and like creepy looks in their eyes, not really touching anything or like causing a sexual crime, just standing licking lips and like googly eye'n ya, which is enough to scare the ba-jesus out of anyone. The Fun Part, Possibly a van with a Clown handing free candy if it would fit.
4) The Ball Pit Room
A room of balls. Typically they have the Completely blacked out room where you navigate the walls to try to find an exit, only to get turned backwards running into other people. This room would just be a huge room of ball pit balls, where you can either wade around and have a few cocktails, or just wade through them to the exit. The horror of this is that who knows what sexually transmitted diseases are crawling on these balls. The fun part, its a freakin ball pit.
5) Beer Vendors:
There's nothing scary about this, just plain awesome of an idea.
6) Trap Doors:
Put these all in the haunted house, and like if you fall into a trap door, you go all the way back to the beginning, but each time you fall into a trap door you have to give the prize master in a booth with the beer vendor something of equal value like a autographed picture of Dee Snyder from Twisted Sister or a Sega Genesis catridge.
7) Hammer Time Room.
In this room you're surrounded by People in Parachete Pants dancing to 2 Legit 2 Quit, join in the fun or never leave the room ever.
8) Room of 1000 Kittens
In this room lies 1000 kittens. Only 1 is carrying a key to the exit door and its taped under its belly. Find the Kitten and Escape. But you'll spend most of your time going AWWWWWWW Scooooosh and other adorable kitten things.